Jamie discovered yoga in 2012 while looking for a way to get back in shape after her first child was born. After taking a yoga basics class she knew she had found something that was much more meaningful than just a fitness class.
Days later she walked into her first Ashtanga class and felt connected to the practice immediately. Sava's modified led primary class taught her how breath and movement could quiet her anxious mind. Intrigued with the practice she immediately became a dedicated student and felt benefits much beyond the physical.
After six years of practice and two more babies, Jamie decided it was time to take her practice further. She completed the 200-hour LifePower Yoga Teacher Training in 2018 and completed LifePower's 300-hour training in 2019. Jamie's degree in Physical Therapist Assisting provided her knowledge in Anatomy and Physiology that is useful in understanding asana alignment and modifications for students' varying physical needs. Broadening her skill set, she completed 36 hours in Thai Yoga Bodywork training with Michael Sitzer in 2019.
Being a student of Sava's since 2012 and receiving extensive one-on-one training from him has been invaluable to her abilities as a teacher. As a teacher, Jamie is knowledgeable and compassionate while supporting students in their practice.
"My job as a yoga teacher is to hold space for students, in whatever way they need it. I am honored to share my knowledge and support students in their practice."
Erin's first experience of yoga was following along with her mom's Rodney Yee VHS tape in the living room when she was around ten years old. It didn't quite stick at the time, but years later, she found yoga again. After struggling through a Vinyasa class and thinking that yoga probably wasn't for her, the class ended with a pose called savasana. It was the most blissful few minutes of her life and from then on, she dedicated herself to learning, practicing, and sharing yoga.
Erin is an E-RYT who has taught at numerous Atlanta studios and companies. Since her initial teacher trainings, she has sought out deeper studies in Yoga Nidra Meditation with Richard Miller, Restorative yoga with Judith Hanson Lasater, asana alignment with Maty Ezraty, and Yin yoga with Douglas Johnson of Mahapatha Yoga. Her approach is also partially informed by twenty years of classical ballet training.
For the last two years, Erin has begun to learn the Ashtanga vinyasa system with Sava at Mysore Yoga Atlanta. More recently, she has been apprenticing with Sava to learn the Mysore method of teaching. She loves that it's a practice that deeply challenges mind and body, but will meet anyone exactly where they are.
First and foremost, Erin is a student of the yogic path and strives to respect and honor the culture and teachings that yoga comes from. She knows that people come to practice for all kinds of reasons and they are all good.
The seeds for Colleen's yoga path were planted by an unexpected source: her third grade teacher, Mrs. Tuller. Each school morning, Mrs. Tuller led students through warm up movements, and then settled them in a quiet "centering time." While these early attempts to build focused concentration were not always successful, the important idea of finding a quiet place inside, had been planted.
Stepping on a yoga mat in a vinyasa class  for the first time in her twenties, Colleen recognized the combination of movement, followed by a period of quiet, as sweetly familiar. In 2010 after years of practicing vinyasa and  Bikram yoga, paired with distance running, Colleen retired her running shoes and completed a yoga teacher training program in the Pranakriya tradition. "People often ask if I quit running because of injury. The answer is "no." At that point I recognized the kind of quiet mind I got from running was superficial and transitory. I wanted to find a more sustainable place of quiet, of clarity." 
Soon after completing her teacher training, while looking to deepen her understanding of asana practice, Colleen began practicing ashtanga. After years of teaching private and semi-private lessons, she began teaching at MYA in 2019. "In a traditional vinyasa class, if you dislike a pose, you can simply gloss over it. The ashtanga system doesn't allow for those kinds of escapes. Whether you love or hate an asana, it will still be waiting for you tomorrow. How you choose to react to an asana is entirely up to you."
To her, one of of the most beautiful aspects of the ashtanga system is the structured framework. Within this frame, each student is able to safely move through asanas as appropriate for their body, and follow their unique spiritual path leading towards deeper clarity. She sees part of the role of teacher to act as a mirror for students, allowing them to see without judgement both places of self-limiting patterns and unrecognized potential. 
She has continued studying yoga philosophy and practices both within the U.S. and internationally, and is grateful to the teachers who have shared generously of their time and knowledge, particularly Richard Freeman and Mary Taylor, Paul Dallaghan for his wealth of knowledge and patience in teaching pranayama, and importantly, Sava for his passionate knowledge and belief in the beautifully transformative healing potential of yoga.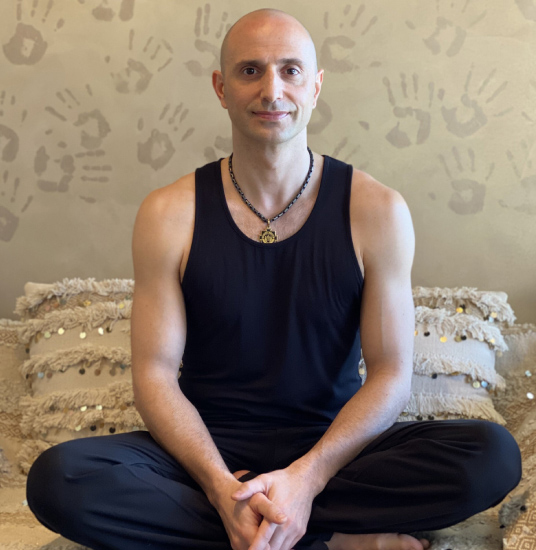 KPJAYI Authorized Teacher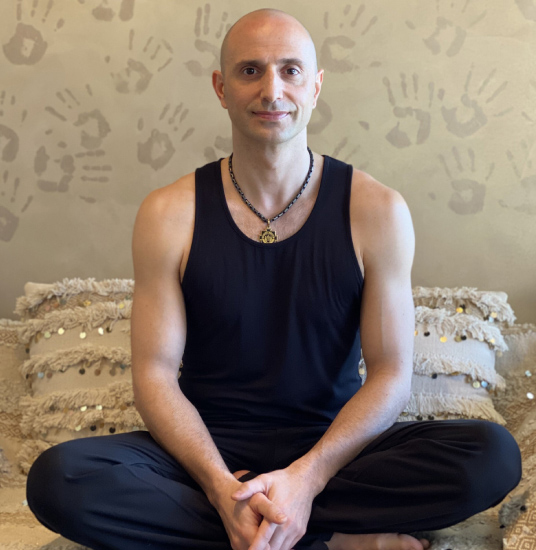 Sava has always been searching for something more in life then just a conditioned physical existence. He feels in the core of his being that there is something within us that never dies, something infinite, beautiful. Instead of only observing physical reality and creating assumptions to what life is about, he has decided to look deeper inside for answers.
"Physical existence for me is a stage that I call rising. We have a choice to fall or to rise. Throughout our lives we experience this constant fluctuation, which is a normal cycle of our path to wisdom. Rising requires enormous effort and is full of setbacks, but if we let go of our limitations and maintain the discipline of our thoughts then we may become "it".
"We are the center of our own universe. This complex biological organism that shells our soul is a wonder in itself. With Yoga, I'm deepening awareness of this inner universe. Yoga has unparalleled holistic healing properties. It is a lifelong journey that answers the most fundamental question about the meaningful purpose of my life, and truly creates a belief that knowing ourselves is the same as having a deeper understanding about creation itself. With this psycho-spiritual practice I want to reconnect to my true nature itself and tune my psyche to the vibrations of the Source where everything originates from. With Yoga we purify our body and clear our mind from the sediment of everyday material world and acquire necessary liberation from our ego so that we can absorb powerful energies that govern the Universe. I hope that ultimately at the end of my biological life I have given back more than I have taken."
Sava was born and raised in the country of Georgia, known for its picturesque nature and breathtaking mountain landscape, versatile climate, hospitable people, and most savory and enticing cuisine and wine. In this country of earthly pleasures, he also learned the importance of discipline and restriction through his training as a competitive gymnast. Ashtanga Yoga is the most physically demanding method of yoga that builds strength, flexibility and mental clarity. Sava's background in gymnastics gave him discipline and dedication that's necessary for yogic path. At the age of 5 he was enrolled into a gymnastics school in Tbilisi, Republic of Georgia. At that time, the Soviet Union was known for their brutal, result-oriented training conditions. He dedicated daily 6-hour long trainings for almost a decade that won him first prizes in competitions in 1991 and 1993.
Sava has been traveling to Mysore, India to study traditional method at the Shri K Pattabhi Jois Ashtanga Yoga Institute (KPJAYI), where his teacher, Sharath Jois, continues the yoga lineage after his grandfather, K. Pathabhi Jois and shares knowledge of traditional Ashtanga yoga method with his students. In Mysore, India, he also studied anatomy, Ayurvedic massage and Sanskrit to deepen his teaching of asana practice. After years of diligent and relentless yoga practice, research, and self-study, Sharath Jois blessed Sava to teach. He is now an authorized KPJAYI teacher who can pass Ashtanga Yoga tradition on to his students. This is known as Parampara, knowledge that is passed in succession from teacher to student. This Sanskrit word denotes the principle of transmitting knowledge in its most valuable form, knowledge based on direct and practical experience. It is the foundation of any lineage: the teacher and student form links in the chain of instruction that has been passed down for thousands of years.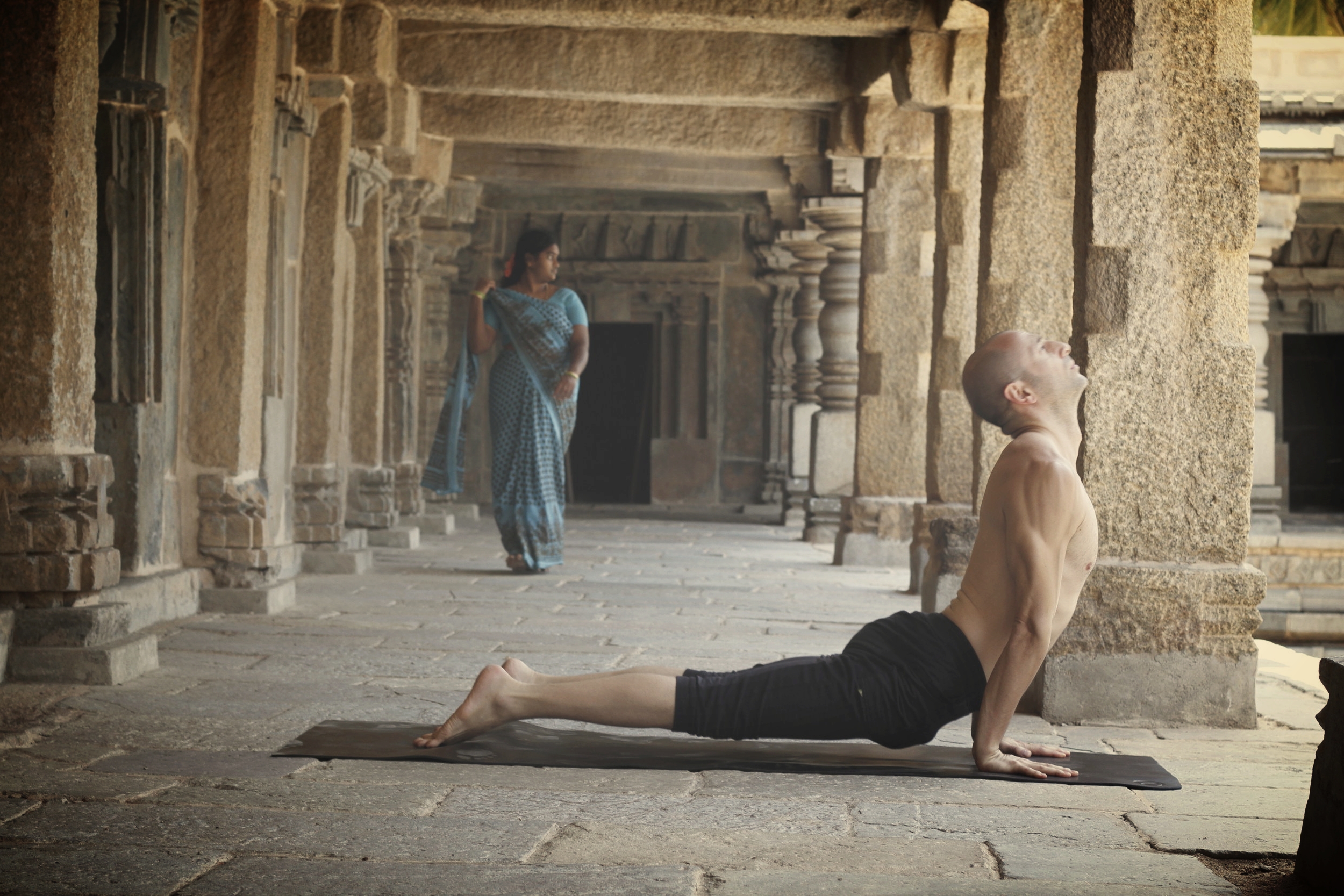 Sava's teaching style is confident and firm, yet gentle and compassionate. He understands the needs, limitations, and strengths of each student and works with them individually to guide them through the practice and helps adapt to it in their own unique way. Sava provides clear verbal instruction for each movement of the practice and applies physical adjustments that help students get into the proper alignment of the posture. Sava's knowledge of Ashtanga yoga is based on his personal daily practice; he is well aware of all the challenges one may face on and off the mat. He believes in an incredible potential instilled in every human soul and accomplishments that can be achieved through devotion, discipline, persistence, veracity, temperance and mindfulness. Sava's purpose of life is to spread the ancient knowledge of Ashtanga yoga and help people live their lives to the best of their potential.