During this four-week beginners course, Sava will introduce you to the practice of Ashtanga Yoga and help you build a strong foundation of yoga as you learn the poses at your own pace.
Each session Sava will guide you through the sequence of postures and help you work on building strength, flexibility, endurance, and core strength.
In addition, you will be taught how to work with your breath and practice moving meditation.
If you are new to yoga, want to learn the Ashtanga Yoga method and begin practicing the Primary Series then this is the ideal place to start your journey.
By the end of this course, you will be familiar with half of the primary series, you will know how to breath correctly in each posture, bandhas and much more!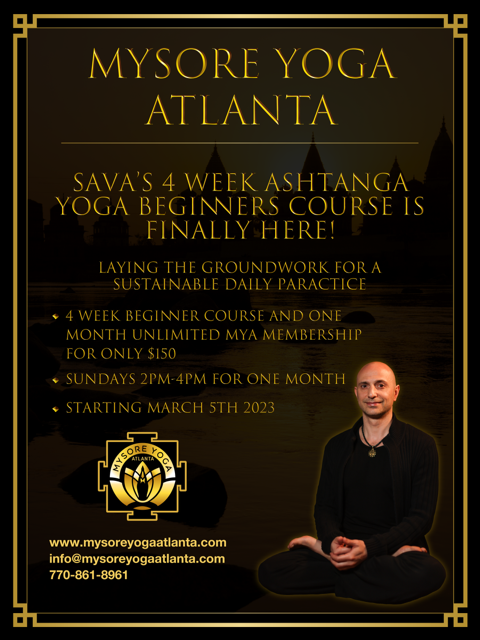 Week one:
Intro to ashtanga and understanding what yoga is. You will learn how to breathe correctly, understand the vinyasa system and become familiar with the five aspects/elements of yoga, as well as the three points of attention known as tristhana.
You will also be taught the eight limbs and the three stages of progression within the system, which are:
physical
energetic
devotional
During the second hour, you will learn the detailed alignment principles of the sun salutation A and B, their corresponding vinyasa counts and any variations based on your physical needs.
Week two: Breakdown of the standing sequence
Week three: Breakdown of seated sequence
Week four: Breakdown of closing sequence
Reserve your spot today on the mind body app!
Cancelation policy: This course can only be cancelled for a full refund 2 weeks prior to start date. In case of emergency course tuition can be applied to a different course at a later date.